Bio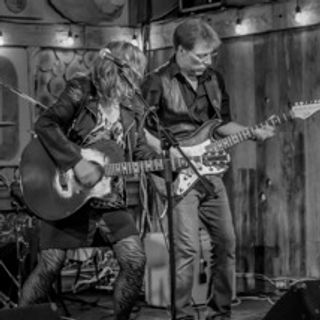 juanita & the big deal
Rock 'n' Country
Juanita & The Big Deal are:
Kevin Dandeno - Bass Guitar, Electric 12 String Guitar, Acoustic Guitar, Vocals
Jeff Mayne - Drums, Vocals
Fred Ruegg - Lead Guitar
Tom Walter - Keyboards
Juanita Wilkins - Vocals, Acoustic Guitar, Harmonica, Bass Guitar
Hailing from South Western Ontario, The Big Deal plays music spanning genres from Classic Rock to Country. Juanita's ability to rock out on tunes like Robert Palmer's "Bad Case of Loving You", then do a tender cover of Deana Carter's 'Strawberry Wine" offers a performance that is always entertaining.
This is a solid group of players, led by Kevin Dandeno, a gifted multi-instrumentalist, singer, arranger and a really great band boss. 
Fred Ruegg on lead guitar is dynamite - channeling Van Halen one moment and Vince Gill the next, exhibiting a truly virtuosic range.
Jeff Mayne is as tasteful a drummer as you could ever hope for - which is not to say that he can't bring it when called upon. And, he sings. It's awesome.
Our newest member is keyboardist Tom Walter, who loves to play that ol' rock and roll and some country too - but with a sophistication resulting from his classical background. There's some boogie in that Bach!
Juanita Wilkins is a singer/songwriter/multi-instrumentalist who has never been able to decide which genre of music she loves best, so she does it all. She has a big voice and she knows how to use it.